Mark Giubarelli has been a yoga teacher for over 20 years adjusting people while conducting public classes. Over the years he developed special adjustments that align the body with the use of some yoga poses. The yoga poses are vital in identifying underlying problems in the back and hips.
Fix things that have been hurting for years!
Healing Neck Alignment - Touch examination before gentle massage then deep tissue work leading to adjustments to get your neck in perfect alignment.
Shoulder Relief - Special adjustments combined with precise pressure point release opens above your shoulders and in-between.
Upper Back Pain - Target parts of the upper back to alleviate deep pain.
Low Back Yoga Adjustment - The low back is checked for alignment, muscle imbalance, and possible disc injury then carefully treated to align energize and revitalize.
Shakti Hip Opener - Open your hips with deep tissue palpitations around your sacrum, the top of the hamstrings, and inner thigh to completely free up the hip movement like never before.
Earth Foot - Ground your energy by unblocking tension with this special foot massage that deeply works into the soul or your sole.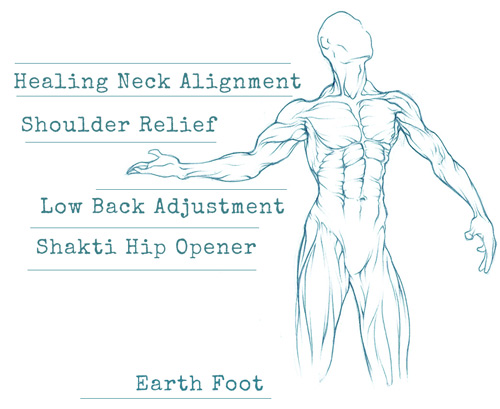 A special combination of yoga poses and bodywork will leave you feeling opened and balanced. You can choose to get bodywork for a number of different ailments or practice a yoga set and get special adjustments.
* Techniques involve many types of palpation. The Latin term palpare translates to touch but palpation involves much more than simply touching the muscle. In these techniques special measurements are done to locate target muscles. They are assessed by carefully sensing the muscle balance, tight or loose, is it inflamed or tender, before being worked on with pressure.
Learn how to heal your back with yoga and gain confidence using Yoga to manage your back pain.
MORE ABOUT HEALING BACK PAIN - HEAL NECK PAIN
Mark Giubarelli has helped thousands of people with neck pain. He is a master at removing muscle pain and aligning the bones.  Get special adjustments in Yoga poses to help align your spine. Learn poses that keep it straight and ones to stretch it.
MORE ABOUT HEALING SCOLIOSIS - SPECIAL WORK ON MUSCLES AND JOINTS FOR MMA FIGHTERS
REVIEWS

Gina Chai Farrell · Works at Beverly Hills Posture, Walker Ozar, DC
Mark has a good eye for the imbalances people hold in their body and I was no exception. Towards the end of class one day he commented on my back and neck tightness and offered to work on my neck during Savasana. Any sort of body work tends to be a bit painful but that little bit of pain is worth it when you walk out feeling like a weight has been lifted - literally. Mark has a firm yet understanding touch and can help you if you're holding any unnecessary tension.


Jenny Falkoff · New York University
mark felt that my vertebrae were not properly aligned and he did a great job of working with them at the end of class. my head and neck felt much better afterward. expecting more assistance the following class, he sought me out and felt that they had actually remained in shape since his prior adjustment.


Emma Cole · Musician at Singer/Songwriter
Mark is amazing! He is very in-tune with energy, which is an important part of being able to find imbalances in muscle and tension if the neck. I was hit by a cab as a pedestrian 4 years ago and my neck locks up from time to time. Mark always finds the problem and makes me feel back to 100% in 10 min.


Chelsea Alskog Kovesh · Marketing Manager Jose Eber EU at Guya Investments.
Thank you Mark!! I came to class with a really sore neck, from too much stress and he made me feel sooo much better! He was so attentive to my pain. Mark knew exactly where to work and relieved my tension and pain. Thank you Mark for making me feel better! You are the best!!


Lygia Orta - Los Angeles, California
Mark has a natural talent for being able to read misalignments in the neck and is able to gently push them into place. I have never been able to let anyone crack or adjust my neck after a car accident where i had whiplash. I 've had injections of 'prolotherapy' and neck therapy with 'electrical stim' for a few months, several years ago... but i have recurring pain on and off. Mark does not crack or force the bones. With massage he realigns them back.. and Voila!! Now, I haven't had any recurring pain for almost a year. The best part is that Mark seems to remember everyones issues and will individually give custom advice and pointers during class for their individual practice. Thank you, Mark for being so in tune with your students!


Dee Rousseau
Mark's class is a combination of strength training, meditation, and a chiropractic visit all in one. He's able to align my neck to prevent future pain and help release muscle tension. Wish he taught every class!


Jarrett Price · Works at Platinum Equity
I suffered pretty severe whiplash from a snowboarding accident. After going to the doctor and seeing a physical therapist, I was still in quite a bit of pain. Mark was able to quickly identify the problem and worked on my neck once and I was immediately better! After 3 of Mark's 5 minute massages my neck was completely back to normal. If you're having neck pain you need to see Mark, trust me!


Seda Bolulu · Works at Update Legal
I have been involved in two rear-ending accidents and have had recurring neck pain over the years. I was adjusted regularly by a chiropractor a short while after my second accident but after that my pain returned. Mark noticed an alignment issue in Yoga class and worked on my neck a couple times. It has since felt a lot better and I crack it much less throughout the day now. He knows what he is doing.


Bianca Badrinath · L.A. Care Health Plan
Not only is Mark an amazing teacher but he also has a great sense of figuring out tightness and misalignment in the body and helping to alleviate it. As an active person I sometimes find myself with the occasional injury, etc. Mark is always able to figure out exactly what the source of the problem is and I always end up feeling a million times better than before I saw him. Thanks, Mark


Chelsea Aiken · Communications Coordinator at EduCare Foundation
Since injuring my neck over a year ago, I've tried to heal and alleviate the unrelenting pain with regular chiropractic adjustments, massages, and physical therapy treatments. Although the pain would subside after these frequent interventions, the relief never lasted more than a month. Then I had Mark examine my injury and he targeted the problem areas right away. After an hour-long session with him, my muscle tension was gone and the mobility in my neck and shoulders increased significantly. I left feeling lighter and more balanced than I'd felt even before my injury. It's been months since my appointment and my neck is still pain-free. Mark has an intuitive understanding of the body that cannot be taught and I would strongly recommend getting in contact with him before trying short-term treatment options. He's the best!·


Ksenia Luki · Yoga Instructor at Self-Employed
Mark really is amazing at what he does. Yoga combined with great massage techniques, deep knowledge of the body and energy work that is how I would describe the body work he does. I am a massage therapist and I was blown away by how he fixed quite a few issues I have hade for years in a duration of one session. Thank you!


Francesca Vannucci · Boston Conservatory
I have chronic neck issues and have worked with Mark for several years now. I have had therapy but nothing helps me the way he does. He knows how to identify the muscular issues that cause my neck to come out of alignment, and he performs expert massage that helps realign my neck. I have never found anyone else who addresses this specific problem the way that he does. He combines his massage with body work and yoga, with an empahsis on form and an awareness for my particular issues that he addresses throughout his classes. He is truly my yoga guru!!! ·


Dani Fernandez · The University of Texas at Austin
I love working with Mark because he actually cares about helping my pain and quality of life. I have a lot of back, neck, and jaw issues and he was able to pinpoint exactly where I was suffering and work to get me out of pain. Thank you for caring about my pain as if I were a friend and not just a client.


Kirk Glienke · Marketing & Public Relations Consultant at Kirk R. Glienke
Mark truly is amazing. In a matter of minutes he was able to diagnose and treat my neck pain in a way that no chiropractor ever has. I had just suffered from nearly two weeks of constant headaches and Mark managed to relax my neck and practically eliminate my pain. I also learned from him how to relax my neck when I feel the tension beginning to cause a problem. I estimate that my headaches and their intensity has decreased by around 90% following this single treatment! Thank you Mark!


Marcella Bam Bam · CEO at MK pharmacy services
Mark!!! There are no amount of words that can ever do you justice!!! I have been suffering from low back and hip pain for over 2 years... I saw a chiropractor, did Accupuncture, had 2 bouts of physical therapy, saw a neurologist, orthopedic surgeon, you name it!!!!! I was told I needed surgery to get better, I stumbled upon marks yoga class and from just looking at my postures he came to me and said I have a muscle tissue and began adjusting me throughout the class, in 2 classes he was able to pinpoint where the area of pain was and just by going to his class, getting adjustments from him and supplemental postures to do at home, I have been able to sleep better and manage my symptoms- I cannot wait to see the optimal results and will forever be grateful to your healing touch and expertise. You saved me so much money with all of the doctors I have been going to and I wish you taught more classes!!! Thank you for your undivided attention no matter how many people are in his class he is so attentive!!! And not to mention how much fun the class is! You sweat! You laugh! You smile! You workout! And you are surrounded by great energy! What more can you ask for??!!!! Thank you so much Mark! You are truly an angel.


Victoria Paone
I've been practicing yoga for awhile but I feel like I've grown in my practice so much just in the last few weeks attending Mark's classes. I suffered from back pain from a car accident, during one of the classes my back spasmed and I could barely sit up, Mark worked my back and spine with a series of streches, adjustments, and loosened my neck which I didn't even know was so tight, I went home feeling tender but better, the next day I was back to normal and today I feel brand new, I've also noticed my mood has improved so much since getting my spine aligned and my neck loosened. I'm truly grateful to Mark and happy to share my experience, I hope that others who are looking for improvement in their lives physically or spiritually have the opportunity to meet and work with him :)


Sarah DeMay
I was experiencing some intense back pain for several days before going to Mark's class. I could barely sit down or stand up without being in agony. I had heard from friends that Mark could help with my back pain, so I figured I'd give him a try. This yoga teacher knows his adjustments for back problems, the next day my back was completely pain free! My back feels better than it has in a long time thanks to this incredible healer!


Nicole Petrou · UCLA
Thank you so much for the adjustment in class the other night.. I have been getting headaches that stem from that part of my back for years now that have caused so much pain an tension all through my shoulders an neck. I literally haven't had a single headache since the adjustment an feel like I can raise my arms without enduring any pain. I am SOOO grateful!
-Much love and light, Nickie


Cedar Rodgers · Carlsbad, California
I highly recommend Mark's class to to anyone dealing with back issues. His expertise has been instrumental in helping me align my back. I always walk away feeling so much relief.


Jill Daignault · Works at SIM Digital
Mark has been doing adjustments on my back for almost a year and they've significantly reduced the amount of pain and tightness I experience. I had never realized just how much discomfort I felt, especially in my lower back, until Mark got everything realligned. I'm grateful for his expertise and love attending his yoga classes to keep my body strong and mind calm :)


Meli Vasquez · Music Travel Coordinator at ALTOUR
Mark is a game changer. I've suffered from scoliosis all my life - I was beginning to accept the idea that my spine will never be linear again until I took Mark's class. After just a few months of small but powerful adjustments, my back has never felt better!! Mark truly has the power of healing hands. Grateful the universe has put him in my life.