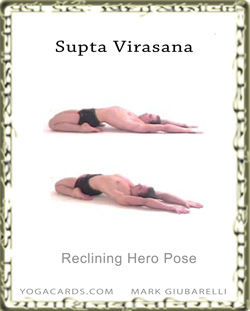 ---
YOGA POSE BENEFITS
This pose stretches and balances the knees. This is beneficial to maintain knee flexibility and balance it.
---
YOGA ANATOMY
MUSCLES STRETCHED
Vastus lateralis (Knee flexion)
Vastus medialis (Knee flexion)
Vastus intermedius (Knee flexion)
Iliacus (Hip Flexion)
Psoas major (Hip Flexion)
MUSCLES STRENGTHENED
Rectus abdominis
Sartorius (Hip Flexion) (Hip abduction)
---
CAUTION
The positioning of the lower leg can be under the hips of laterally. You should adjust if the knees feel better when they are aligned without a slight twist. Traditional they go to the outside of the hips but this twists the knee slightly.
People with a limited range of motion in the knee should avoid this pose and choose stretches that do not bare the bodies weight over the joint.
Previous knee injuries can be aggravated so enter with caution.